Kids' Club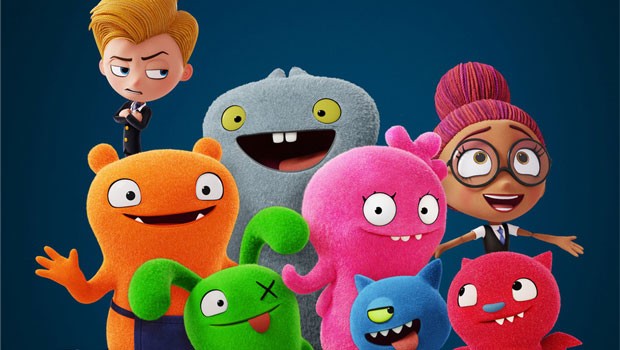 Great value for the whole family, Kids Club gives you the chance to watch a family film on the big screen for just £2.15 each per ticket!!!
Experience it every Saturday/Sunday at 10am and every day during the school holidays with a new film each week!
Showing This Week:
19th - 24th October - UglyDolls (U) WATCH TRAILER
In the adorably different town of Uglyville, weird is celebrated, strange is special and beauty is embraced as more than simply meets the eye. Here, the free-spirited Moxy (Clarkson) and her UglyDoll friends live every day in a whirlwind of bliss, letting their freak flags fly in a celebration of life and its endless possibilities. In this all-new story, the UglyDolls will go on a journey beyond the comfortable borders of Uglyville. There, they will confront what it means to be different, struggle with their desire to be loved, and ultimately discover that you don't have to be perfect to be amazing because who you truly are is what matters most.
Coming Soon:
25th - 31st October: Hocus Pocus (PG) BOOK TICKETS NOW
You're in for a devil of a time when three outlandishly wild witches - Bette Midler (The First Wives Club), Sarah Jessica Parker (TV's Sex And The City) and Kathy Najimy (The Wedding Planner) - return from 17th century Salem after they are accidently conjured up by some unsuspecting pranksters! It's a night full of zany fun and comic chaos once the tricky 300-year-old trio sets out to cast a spell on the town and reclaim their youth - but first they must get their act together and outwit three kids and a talking cat. Loaded with bewitching laughs, Hocus Pocus is an outrageously wild comedy that's sure to entertain everyone.
7th & 8th December: Elf (PG) BOOK TICKETS NOW
For his sophomore stab at directing, actor/writer/director Jon Favreau (Swingers, Made), took on this holiday comedy starring Saturday Night Live-alum Will Ferrell. Ferrell stars as Buddy, a regular-sized man who was raised as an elf by Santa Claus (Edward Asner). When the news is finally broken to Buddy that he's not a real elf, he decides to head back to his place of birth, New York City, in search of his biological family. Elf also stars James Caan, Mary Steenburgen, Zooey Deschanel, and Bob Newhart.
14th/15th December: The Polar Express (U) BOOK TICKETS NOW
Directed by Robert Zemeckis and based on children's author Chris Van Allsburg's modern holiday classic of the same name, The Polar Express revolves around Billy (Hayden McFarland), who longs to believe in Santa Claus but finds it quite difficult to do so, what with his family's dogged insistence that all of it, from the North Pole, to the elves, to the man himself, is all just a myth. This all changes, however, on Christmas Eve, when a mysterious train visits Billy in the middle of the night, promising to take him and a group of other lucky children to the North Pole for a visit with Santa. The train's conductor (Tom Hanks) along with the other passengers help turn Billy's crisis in faith into a journey of self-discovery.
21st - 24th December: Home Alone (PG) BOOK TICKETS NOW
Home Alone is the highly successful and beloved family comedy about a young boy named Kevin (Macaulay Culkin) who is accidentally left behind when his family takes off for a vacation in France over the holiday season. Once he realizes they've left him home alone, he learns to fend for himself and, eventually has to protect his house against two bumbling burglars (Joe Pesci, Daniel Stern) who are planning to rob every house in Kevin's suburban Chicago neighborhood. Though the film's slapstick ending may be somewhat violent, Culkin's charming presence helped the film become one of the most successful ever at the time of its release.
Line-up may be subject to change.